24/7 Emergency Service
419-586-2392
Experienced, Dependable Plumbing Services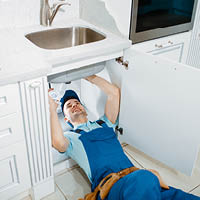 When you have a plumbing problem you want fast, dependable service, and that's what we provide at CW Service. Our experienced plumbers can unclog drains, stop leaks, repair your sump pump, fix your water heater and water softener, and perform all plumbing repairs in your home or business. If you have a residential or commercial plumbing emergency, we are here for you 24 hours a day, 7 days a week.
We also specialize in new installations. If you are planning a kitchen or bathroom remodel, CW Service can provide the perfect fixtures for your decor along with expert installation. Has your hot water heater or water softener stopped working? We'd be glad to consult with you on the right system for your needs and your budget and give you a free estimate.
CW Service's plumbing services include:
Sewer and drain cleaning
Plumbing fixtures
Water line piping
Drain lines and floor drains
Underground service lines and building sewers
Gas lines
Natural gas service line piping (plastic welding certified)
Water heaters
Water softeners, filters and conditioners
Water pumps
Sump pumps
Sewer camera
If you are experiencing a plumbing emergency, don't wait! Contact CW Service for round-the-clock repairs and service. Our friendly technicians are available for emergencies 24 hours a day, 7 days a week.
High Quality Commercial Plumbing
CW Service offers commercial plumbing services to Celina and the surrounding areas. Some of the most important components of a commercial building include the plumbing, heating and cooling systems. That is why you need CW Service's dependable, professional technicians who have the specialized skills needed to understand and maintain such complex systems. From schools to banks to offices, CW Service has the experience and know how to get the job done.
Our commercial services include:
Plumbing fixtures and water coolers
Water line piping
Drain lines and floor drains
Underground service lines and building sewers
Roof drains and rain water conductor piping
Gas lines
Air piping
Natural as service line piping
Sewer camera
Service agreements
Mechanical contracting
All plumbing, heating and cooling needs
New installation and remodeling
Bid/specification services
Licensed and bonded in the state of Ohio for plumbing, HVAC, hydronics and refrigeration
Certified by the state of Ohio for boiler installation and repair
Licensed by the state of Ohio for backflow certification and repair